02/13/2004 Penki kontinentai exceeded its plans last year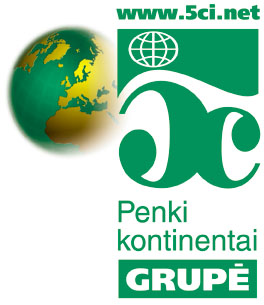 A year 2003 was more successful than expected for Penki kontinentai Group - the companies of universal banking technologies, Internet and telecommunications and Skynet information society network. Total turnover of all group's companies made up 80,2 million of Lt without VAT (67 million for the products, 13,2 for the services).

Penki kontinentai Group supplies and maintains banking equipment, creates specialized software, distributes and installs data security systems, engineers and installs computer and the largest optical networks in the Baltic states, provides Internet services, creates e-commerce system, web-design, develops marketing strategies, trades in hardware and software, telecommunications equipment, offers computer courses, consults banking technologies' specialists, sells specialized computer as well as educational literature and belles-lettres, provides internet café, information centre and conference hall services.

Products' and services' export made up the greater part of total turnover of Penki kontinentai – 61,2 million of Lt. The company mostly exported to Ukraine, Russia, Azerbaijan, Belarus, Kazakhstan, Moldavia, Georgia, Armenia, number of products and service was also exported to Germany, great Britain, USA, Serbia and Montenegro, Spain, Poland, India, Slovakia, Sri-Lanka, Bulgaria, Cyprus, United Arab Emirates and some African countries. According Idrak Dadashov, company's General Director, the last year was very efficient: Penki kontinentai together with its partner UVS Group have established Kriptonika, UAB . The main task of the newly established company is migration from the magnetic cards to the chip cards in compliance with EMV standards. Penki kontinentai also established a daughter company Ashburn International , which specializes in e-payments and related application solutions.

The company is planning to offer some novelties to its clients this year: establishment of banking self-service department in "Europa" supermarket (Konstitucijos av, Vilnius) and IP telephony terminal in the city e-information centre (Pamėnkalnio st. 2, Vilnius). Skaineta, UAB and Penki kontinentai clients use IP telephony services at especially low prices.

Penki kontinentai together with UVS are building a five-storey office at Kalvarijų st. 143 (Vilnius). Skynet and Penki kontinentai network are connected into one general network. Penki kontinentai Internet users will have a unique opportunity to take all advantages of Skynet network – to exchange multimedia files, use IP telephony connection, communicate, work or simply have a good time…

Much is invested into Skynet network engineering and expansion. Skynet Information society network, e-city, e-medicine and e-education institutions are the company' priority activity spheres. Skynet network, which earlier covered Šeškinė, Fabijoniškės, Pašilaičiai micro-districts only is now connected with the city's centre. Soon the network will be expanded to Justiniškės, Pilaitė, Viršuliškės and Šnipiškės micro-districts. Recently the company bought back the shares from the small shareholders E. Filistovičius and J. Perepelica (0,15 % of shares from each). Now Penki kontinentai Group has got 100 % of Skaineta, UAB shares. The small shareholders will be prosecuted for the violation of company's management rules and credit nonfeasance.

Penki kontinentai Group ceased to be a member of InfoBalt Association last summer. Penki kontinentai is engaged into the networks' projecting and installation, the company invests into information society development, however, having faced the feigned obstacles and indifference from the official parts, it was forced to seek for other partners. Business information systems' development committee under Lithuanian industrialists' confederation will help Penki kontinentai to implement the projects, which are important to information society.

Company groups' specialists participate at the international exhibitions and seminars annually. As every year in March, banking technologies' experts will take part at the world's biggest and the most prestigious IT exhibition "CeBIT".