08/23/2017 "Service Desk.iQ" evaluated in the International Market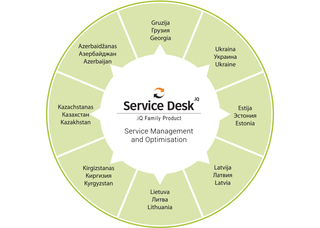 Service Desk.iQ solution, designed to optimize business processes, has successfully taken root in Ukraine. Representatives of the Ukrainian company specializing in monitoring ATM networks valued the advantages of the BS/2-developed solution.
The growth of business and the expansion of its infrastructure make it necessary to seek the best and most convenient way to manage the growing information flows and tasks. The company serving a large network of ATMs and other self-service devices has chosen Service Desk.iQ for its specific modules combination, when one solution provides the fulfillment of a large number of important business tasks. Thus, the Ukrainian company has improved the quality of its ATM services.
"The effectiveness of the solution is tested not only in the foreign market, but also inside BS/2, where, after the application of Service Desk.iQ, productivity has grown – so, it is perfect for banks, retail and other enterprises," says the BS/2 Deputy Head of Maintenance Department Andrej Smirnov.
Service Desk.iQ was appraised for its innovation and application range in the international market – In Georgia, Azerbaijan, Kazakhstan, Kyrgyzstan, Latvia and Estonia.
This recognition was largely determined by the solution's multifunctionality - its modules optimize the logistics of the company, monitor the resources, keep records, fix faults and find solutions, and help perform other tasks. This increases the labor productivity, reduces costs and optimizes the distribution of tasks.
For more information about this product visit